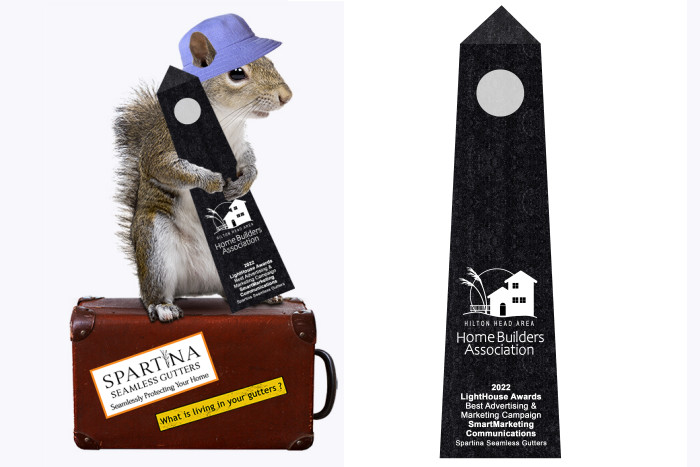 29 Nov

SMARTMARKETING COMMUNICATIONS WINS 2022 LIGHTHOUSE AWARD

Bluffton-based Marketing Firm Honored by the Hilton Head Area Home Builders Association with Award for "Best Advertising/PR Campaign" for Work for Spartina Seamless Gutters

Bluffton, SC, November 2022 – SmartMarketing Communications, the Bluffton-based marketing agency offering a wide range of public relations, advertising, branding, marketing and social media services for businesses throughout the Lowcountry, has been honored by the Hilton Head Area Home Builders Association with a prestigious 2022 Lighthouse Award. SmartMarketing received the award for "Best Advertising/PR Campaign" for their work for Spartina Seamless Gutters (www.spartinaseamlessgutters.com), and was presented with the award at the HHAHBA's 2022 Lighthouse Awards Gala – which has been recognizing building and design excellence since 1999.

The 23rd Annual HHAHBA Lighthouse Awards Gala, presented by title sponsor Coastal States Bank, took place on Friday November 18th at the Westin Hilton Head Island Resort & Spa on Hilton Head Island. The annual event, which recognizes the Lowcountry's finest builders and designers, was attended by hundreds of elite building industry professionals who gathered to learn who judges selected as the Lowcountry's most talented builders and designers. The coveted Lighthouse Award is an honor given to area home building professionals for their demonstration of excellence and quality of craftsmanship in the construction of homes throughout the Beaufort, Jasper, and Hampton Counties.

SmartMarketing's award-winning marketing/advertising/PR campaign for Spartina Seamless Gutters helped the company build widespread awareness in a crowded market and gain a large percentage of the market in the Lowcountry. In working with Spartina Seamless Gutters, SmartMarketing Communications helped company owner Andrew Snodgrass take his business from a small, word-of-mouth home improvement business to what is now one of the Lowcountry's fastest-growing gutter companies. Using a strategic combination of branding, marketing, public relations, advertising and social media, SMC helped Andrew reach his goal of increasing awareness of the company — helping to significantly grow the business and position it for further expansion.

"We are thrilled to have been recognized by the HHAHBA for our work for Spartina Seamless Gutters with this multi-faceted marketing, public relations and advertising campaign," said Lucy Rosen, Chief Solutions Officer at SmartMarketing Communications. "The combination of print ads, custom truck wraps, editorial coverage and a robust social media campaign helped to create not only company awareness and engagement, but proved to help build and grow Spartina's business."

For more information about SmartMarketing Communications, visit www.smartmarketingcommunications.com, and to learn more about Spartina Seamless Gutters, visit www.spartinaseamlessgutters.com. For more information about the 2022 HHAHBA Lighthouse Awards, and a complete list of winners of this year's event, visit www.hhahba.com.