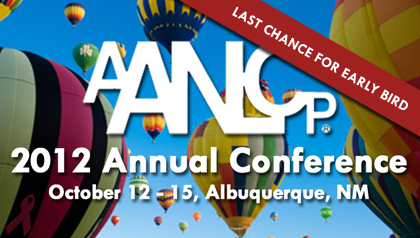 01 Aug

American Association of Nurse Life Care Planners (AANLCP®) To Host 2012 Annual Conference October 12-15 in Albuquerque, New Mexico

FOR IMMEDIATE RELEASE

CONTACT: Ellen Linnemann, SmartMarketing Communications at

[email protected]

 
– Conference Brings Together Nursing and Legal Professionals to Explore Issues and Advances in Life Care Planning –
The American Association of Nurse Life Care Planners (AANLCP®) — a not-for-profit organization dedicated to the growing specialty of Nurse Life Care Planning — will be holding their annual conference in Albuquerque, New Mexico from October 12 – October 15th.  The 12th Annual AANLCP® Conference — entitled "Rising to New Heights in Life Care Planning: Today, Tomorrow & Beyond"  — is open to all Registered Nurses, Nurse Case Managers and Life Care Planners throughout the United States, Canada and Mexico interested in learning about some of the most important issues and advances in this growing specialty area.  Attendees at the AANLCP® Conference may earn up to 17 nursing contact hours (pending.)
The AANLCP® Conference will feature keynote speaker Dr. Carol J. Bickford who will be speaking on the topic of "Life Care Planning – a Nursing Specialty."  Dr Bickford has served as a senior policy fellow in the Department of Nursing Practice and Policy at the American Nurses Association (ANA) for over 14 years – directing the ANA professional standards and informatics initiatives.  She has mentored numerous nursing specialties along their paths to ANA recognition and is keenly aware of emerging trends within the profession.
"We are excited and honored to have Dr. Bickford as this year's keynote speaker as she shares her insights in the area of Nurse Life Care Planning and discusses the field's growth into a nursing specialty," says Anne Sambucini, RN, CCM, CDMS, CNLCP, MSCC, President of AANLCP®.   "The conference is a great opportunity for established nurse life care planners and case managers, as well as those thinking about entering the field, to network with colleagues, learn from industry leaders, and make some valuable vendorcontacts that can help them as they move forward in the growing field of Nurse Life Care Planning."
Legal professionals attending the conference will learn about the most current standards in the field.  Attorneys are welcome and encouraged to attend the three-day conference to make valuable connections and form new strategic partnerships with Life Care Planners.

The AANLCP® Conference is THE leading conference for Nurse Life Care Planners and anyone interested in learning more about the field of Nurse Life Care Planning.  AANLCP® promotes the role of nurse life care planners, including education, collegiality, collaboration, research, and standards as they relate to the practice of Nurse Life Care Planning.
For more information about the 2012 AANLCP® Annual Conference, visit www.aanlcp.org/conference, or call 801-274-1184.