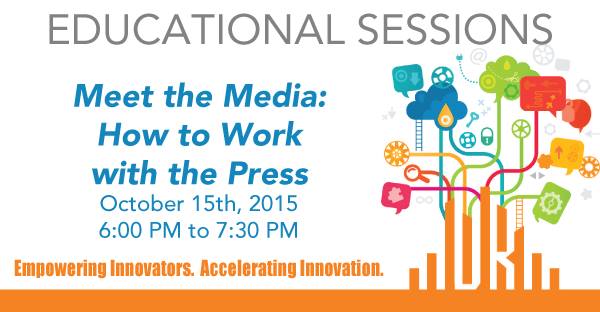 21 Sep

Don Ryan Center For Innovation Presents "Meet The Media" Seminar

Educational Seminar to Feature a Panel of Top Local Reporters and Broadcast Producers Providing Insight on How to Work with the Press

Have you ever wondered how certain companies or individuals get featured, quoted and mentioned in the news? Have you ever been driving and heard a really great radio interview addressing a timely topic in the news, but didn't know how the person ended up as a guest? What makes a great television guest stand out in today's busy news environment? Most importantly, how do you package yourself as a professional so the press notices? Now is your chance to find out the answer to these questions — and more — as the Don Ryan Center for Innovation presents its first-ever Educational Seminar on this timely topic.

The Don Ryan Center for Innovation's Educational Seminar "Meet the Media: How to Work with the Press" will be held on October 15th from 6 p.m. – 7:30 p.m. at the Don Ryan Center for Innovation, located at 400 Buckwalter Parkway in Bluffton. The event is open to the public with a registration fee of $10.00. Register online at www.ryan-innovation-center.com, or by calling 843-540-0405.

The Educational Seminar will feature a panel of some of the Lowcountry's top print reporters, editors and broadcast producers who will be providing their collective insight on how today's business professionals can best work with the press in order to help publicize and market their businesses. The panel discussion and interactive Question and Answer session is a unique opportunity for the public to hear first-hand from many of the region's most well-known and respected journalists about best ways to work with them in order to help secure the news coverage that can often help grow businesses today.

Panelists at the October 15th "Meet the Media" Educational Seminar include:

Lawrence Conneff, Editor, Bluffton Today

Lawrence Conneff has been editor of Bluffton Today and The Sun Today since December 2013. He previously worked as a reporter and sports editor at Bluffton Today and The Courier Herald in Dublin, Ga. He is a Savannah native and 2008 graduate of the University of Georgia's Grady College of Journalism and Mass Communication.

Lynne Cope Hummell, Editor,The Bluffton Sun

Lynne Cope Hummell has been a writer for most of her life and an editor for half of it. A native South Carolinian, Lynne earned a BA in journalism at the University of South Carolina in Columbia, her hometown. Her favorite journalism course was copy editing, where she became a stickler for correct grammar and usage. A 31-year resident of the Lowcountry, Lynne currently is the editor of The Bluffton Sun and The Hilton Head Sun newspapers, with a combined circulation of nearly 50,000 households.

Wayne Morris, General Manager, WHHI-TV

Wayne Morris was born and raised in Sumter, SC and graduated from Clemson University with a Degree in marketing. His previous jobs include working for Raycom Media in Columbia, SC at WACH-FOX TV, and today he is General Manager at WHHI-TV. In addition, he is also a Partner at Byrne Acquisition Group, LLC., Owner of WHHI-TV here in town and WBUW-TV in Madison, WI and WCCP-FM in Greenville, SC.

Brian Tolley, Executive Editor, The Island Packet and The Beaufort Gazette

Brian Tolley is executive editor of The Island Packet and The Beaufort Gazette, a position he has held for the past year. A graduate of Marshall University, Brian has worked at papers across the Southeast over a 30-year career in journalism, eight of which have been spent as the newsroom's top editor.

Rob Walker, Director of Programming and Operations, Alpha Media

Rob is the Director of Programming and Operations for Alpha Media's six successful stations in Savannah and Hilton Head. Rob's radio career has taken him across the country, programming radio stations from Boston to Seattle, with more than a few stops in between. In addition, Rob is a certified paramedic and served as the media relations officer for the Sussex County Delaware Emergency Medical Services department during Superstorm Sandy."

Maggie Washo, Publisher, CH2 Magazine

Maggie moved from New York State to Hilton Head Island in 1992. She began her career in Food & Beverage, so the later position of Marketing Director for the Lowrey Group was a natural fit. In 2006, she transformed what was a marketing newsletter for restaurants into CH2 magazine, now celebrating its ninth year in the Lowcountry.  She does not claim to be the authority on all media, however, she is THE authority on CH2 & CB2 magazines.

For additional information about this event and to register online visit www.ryan-innovation-center.com, or call 843-540-0405. This event will sell out so pre-registration is necessary.