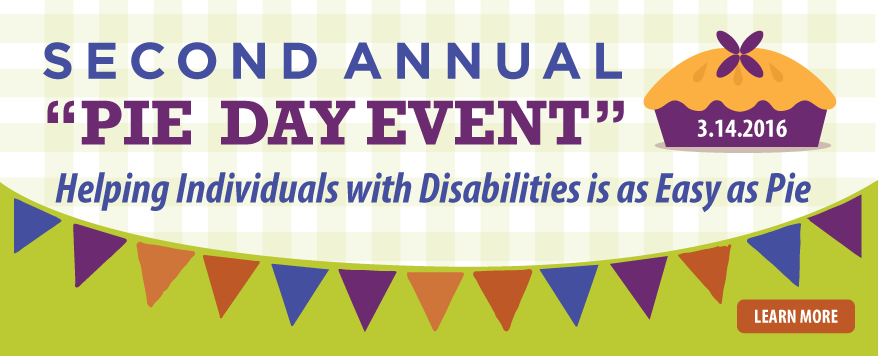 11 Dec

LifeROOTS Celebrates "National Pi Day" on 3/14 With Unique Pie Event Fundraiser

Non-Profit Organization Creates Pie Event to Raise Important Funds to Purchase Aluminum Wheelchairs for Adults and Children with Disabilities

LifeROOTS, the Central New Mexico-based not-for-profit organization that provides programs and services for individuals with disabilities, is giving the community the opportunity to celebrate "Pi Day" this year in a very unique, delicious — and philanthropic — way. The non-profit organization is hosting its first "Pi Day" fundraiser – and is lining up some local business leaders who have agreed to take a "pie in the face" to help raise much needed funds for the not-for-profit organization through their unique "Throw a Pie in the Face of Management" event … and giving new meaning to the idea of "pies with a purpose."

On March 14th — the day set aside to honor the mathematical constant of Pi (3.14) — LifeROOTS will be joining with Builders Source Appliance Gallery to host a unique "Pie Day Event" fundraiser. The event will involve the community in a day of fun pie-related activities, while raising money for an important local cause: the purchase of lightweight, aluminum wheelchairs for adults and children with disabilities. The event will take place on Monday, March 14th at Builders Source Appliance Gallery, located at 308 Menaul Boulevard NE in Albuquerque, from 5:30 p.m. until 8:30 p.m.

The LifeROOTS Pie Event will include tastings and free samples of a wide variety of pies — including fruit pies, pizza pies and other gourmet pies – from local bakeries and chefs, and will feature cooking demonstrations from some of the area's premier chefs in state-of-the-art kitchens displayed at Builders Source Appliance Gallery. In addition, what makes this event truly unique is LifeROOTS "Throw a Pie in the Face of Management" event – giving people the opportunity to throw a whipped cream pie at their boss, co-worker, manager or a number of local business leaders who have volunteered to be part of this year's event to raise money for this important cause. At last year's inaugural event, many people lined up for their chance to "let the pies fly" in the face of some of the region's top executives – including Paul DiPaolo, Regional President of US Bank and Cristin Heyns, Human Resources Director of Blake's Lotaburger. This year, with the expansion of the event and a full-fledged "Pie Day" being orchestrated, LifeROOTS and Builders Source Appliance Gallery hope hundreds of local residents will join in on the fun, and fundraising, by throwing a pie in the face of one of the region's top business professionals!

"We are thrilled to have joined with Builders Source Appliance Gallery for this opportunity to expand our original pie fundraiser into a great community event in honor of National Pi Day," said Kathleen Cates, CEO of LifeROOTS (who last year bravely took a pie to the face to help in the fundraising effort.) "We're so grateful to Builders Source and the many local chefs and restaurants who are helping us in this fundraiser – making it a fun day for everyone involved, and even more importantly, an important way for us to raise money to help enhance the quality of life for our clients."

Proceeds from the event will go towards the purchase of lightweight aluminum wheelchairs for adults and children with disabilities. Aluminum wheelchairs weigh less than traditional wheelchairs and are easier to both load in and out of accessible vans used by LifeROOTS, as well as easier to maneuver – making it possible for individuals with disabilities to be able to travel more efficiently to doctors' appointments, jobs and other community events.   Each aluminum wheelchair costs approximately $300; through this event, LifeROOTS hopes to be able to raise enough money to purchase at least 25 wheelchairs, so that many of their members to be given the opportunity to experience a greater sense of mobility when traveling throughout the community.

The LifeROOTS Pie Day Event is still accepting a limited number of sponsors for the event, and continues to welcome business leaders who are interested in helping raise money for a good cause by being part of this event. For sponsorship details and other opportunities to get involved, visit www.liferootsnm.org, or call 505-255-5501.