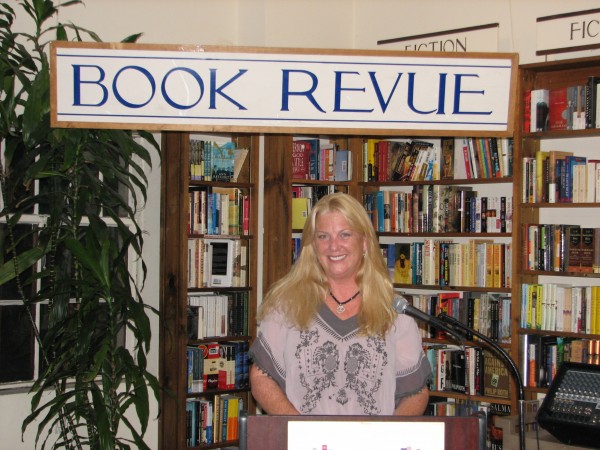 16 Aug

Lucy Rosen Puts Words Into Action at Book Revue

As seen on Huntington Patch.com, August 16, 2010

It wasn't your typical book reading when Lucy Rosen, known as the "Queen of Networking," came to Book Revue last week for a discussion and signing of her new book, "Fast Track Networking: Turning Conversations into Contacts."

Rosen, a business strategist and entrepreneur, is one of the country's most well-known networkers and the founder of Women on the Fast Track, a networking organization with dozens of chapters across the country. She has been featured in hundreds of magazines and newspapers, including The Wall Street Journal, The New York Times, Entrepreneur, PINK magazine and Working Mother, and interviewed on numerous national and local broadcast outlets.

"I could stand up here and talk about the fact that networking is about giving, not about receiving; and the fact that you should think about others before you think about yourself," began the charismatic Rosen at Book Revue on Aug. 11. "But that's silly, because you can buy this book for $14.99 and figure it out. … So why not do something that makes a lot of sense?"

Rosen had audience members rearrange the row seating into a circle and sat, podium behind her, casually among the group. "The best way to show how the book works and what it's about is to actually do it," Rosen continued. "There's nobody here that doesn't need something – a contact, a connection, inspiration or motivation."

Joined by co-author Claudia Gryvatz Copquin, an award-winning journalist and author, Rosen proceeded to lead the group in an impromptu networking session to demonstrate her method. Participants were encouraged to first state what they have to offer in terms of their business expertise and connections. They would then express what they needed – perhaps funding or volunteers for a cause, or media attention on a specific topic.

Melissa Doktofsky, founder of Huntington-based Toys of Hope Children's Charity was there to support Rosen, who she said has guided her charity to national visibility. "In a year and a half, Lucy has literally put us on the map," Doktofsky said. "She has leveraged beautiful relationships with corporate connections that have helped tremendously."

Donna Drake, president of Drake Media Network, as well as executive producer and host of the Live It Up TV show, which airs on WLNY-TV, said she has known Rosen for more than a decade and is chapter leader for one of her Women on the Fast Track networking groups.

"I'm excited for her because I know that this book covers men and women in all stages of business," Drake said. "And it all comes from giving … from finding what you can do to help others."

Drake noted that Rosen's door is always open, "and that's why people from all over the United States come to her for guidance."

During the discussions on this evening at the Book Revue, at least two connections were made. Toys of Hope's Doktofsky, who was seeking press coverage, met Gryvatz Copquin, associate editor at Long Island Parent magazine, and a recent college graduate seeking employment in fashion made contact with a guest who has industry connections.

It seems that this event encompassed the title of Rosen's book – "Fast Track Networking: Turning Conversations into Contacts."

For more information about Lucy Rosen, visit www.LucyRosen.com.