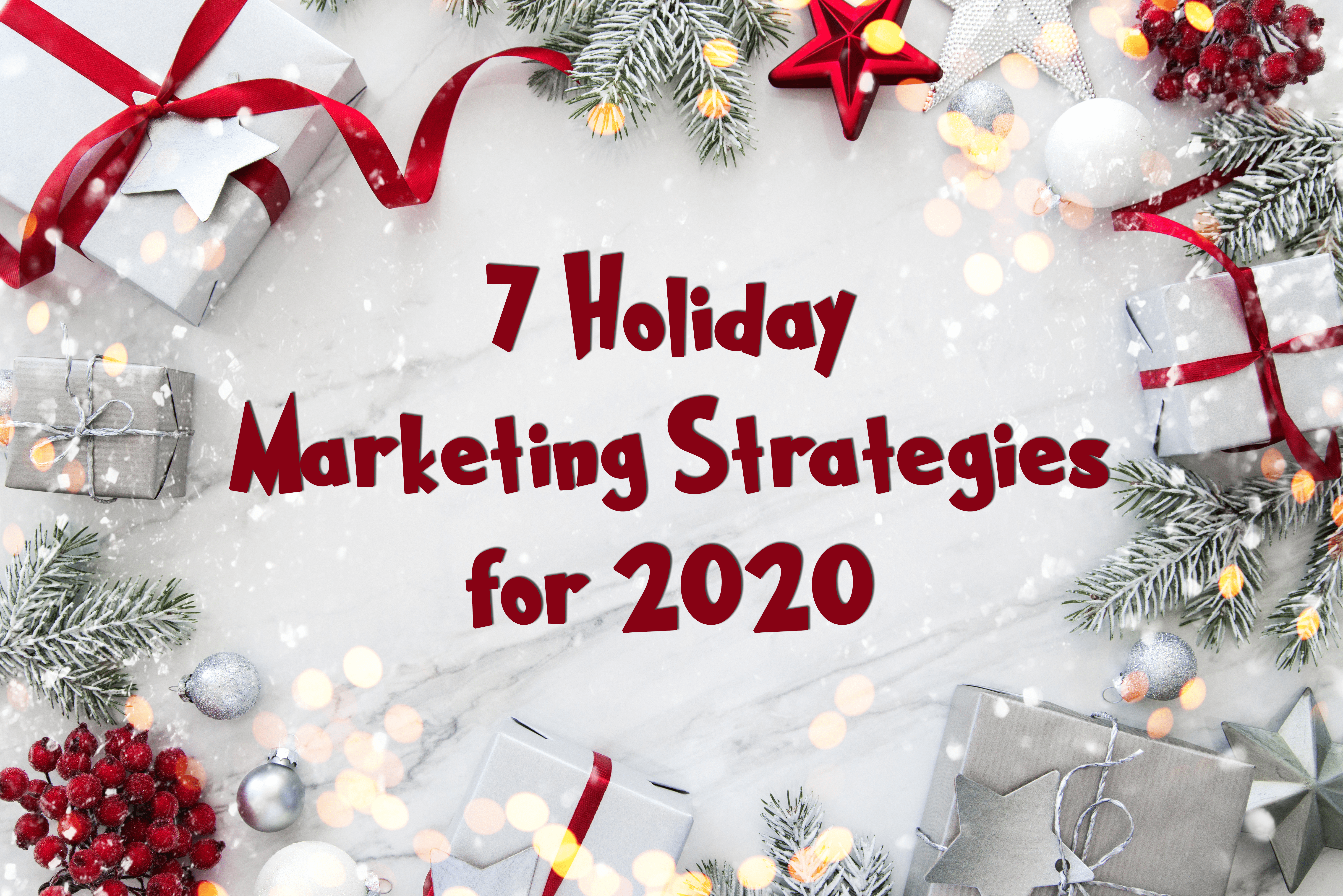 01 Dec

Seven Holiday Marketing Strategies for 2020

We all know the feeling. After Halloween, it seems like the floodgates open. Holiday marketing campaigns are everywhere, with countless businesses rushing to get in on the action.


With customers inundated with commercials, ads, and emails (oh my), launching a well-designed campaign is crucial to winning their attention.

Use these marketing tips to execute a campaign that helps your business make the most of the end-of-year sale season.
Be authentic.

When you picture a Christmas advertisement, there are a few key elements that likely come to mind: families seated around a fire, kids creeping down the stairs to catch a glimpse of Santa, or messaging that's a play on The Night Before Christmas. Whether producing TV commercials or social media ads, you don't want to give your customers that "you've seen one, you've seen them all" feeling.

Use your brand's personality to differentiate yourself from competitors and leave an impression.

Now's the time to get creative with your concepts, but make sure your messaging stays true to your business' mission.

Offer alternative shopping options.

Anyone else heard the phrase "in these unprecedented times" enough in 2020 to last a lifetime? The world has changed, with significant impacts on consumer behavior. Consumers are looking for new ways to do their holiday shopping without getting caught up in a crowd. According to

a recent study from Google

, 53% of consumers say they'll choose to shop at stores that offer contactless shopping, 47% will use options to buy online to pick up in-store or curbside, and 66% said they would shop at more small, local businesses this year. If you own a retail business, now's the time to offer alternative shopping options – if you haven't already.

Offer discounts and promotions.

Consumers today are highly savvy shoppers who will be on the lookout for sales. You could offer a single, valuable discount to draw in bargain hunters or a series of small promotions that change each week, giving customers incentive to return all season long.

Give back.

Establish a strong local presence and incorporate a charitable donation into your holiday marketing plans, or form a partnership with a non-profit in your community. You and your employees will feel good about paying it forward, and your customers will feel good about their purchase.

Say thank you.

Although you're eager to bring in new business, remember to say thank you to your loyal customers. Repeat customers are

responsible for about 40% of your business

, so it's worth keeping them around. Offer a small discount or gift to these customers to thank them for their support. They'll be more likely to keep choosing your business if they know that you care.

Go big on the holiday spirit.

Shopping for many is more than buying gifts; they want the season's holiday spirit and cheer. Update your window display, website, and social media feeds with themed content that speaks to the season's joy. Get interactive and hire "Kris Kringle" for a photo day or elves to hand out candy canes. You can also offer in-store gift wrap services or market a limited-edition product only available during the holidays.

Don't wait too long to start.

In the business world, it's never too early to start planning for the holidays. Creating a successful campaign takes time, effort, and organization, which is why it's best to finalize the details early-on or hire an agency to help you.
Our team at SmartMarketing Communications has the experience, talent, and holiday cheer to help you launch a holiday marketing campaign that will drive sales and widen your brand's reach. Whether you're looking for an expert opinion on your marketing plans or don't know where to start, we're here to help. Call us at 888-587-4593 or click here to learn more about our services.