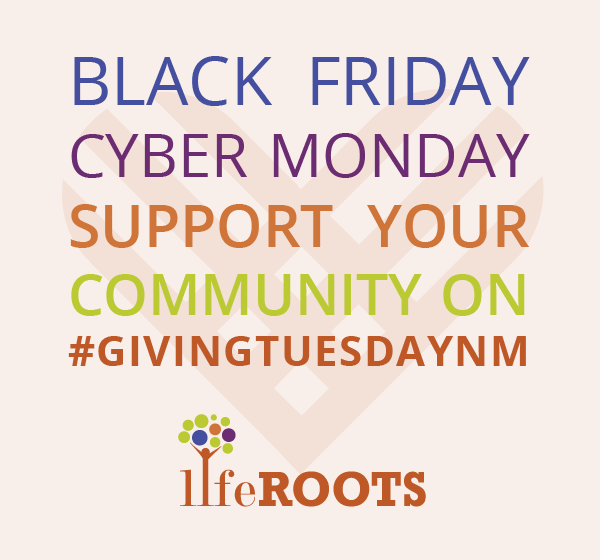 22 Nov

We Support LifeROOTS on #GivingTuesdayNM

On Tuesday, November 29, 2016, LifeROOTS is participating in #GivingTuesdayNM part of the global day of giving known as #GivingTuesday.  Last year was the first statewide initiative in New Mexico, with more than 100 nonprofits in 11 communities coming together – raising close to $300,000 for their work!

#GivingTuesdayNM is not about just one sector, cause, or community. #GivingTuesdayNM is about New Mexico.

Together we can do more. You can find the complete list of participating organizations at www.GivingTuesdayNM.org.

Your Donation will help us continue to "Empower the Lives" and "Shape the Futures" of those with disabilities throughout the Albuquerque & Rio Rancho community.

Steps to participate in #GIVINGTUESDAYNM:

Step 1: Make a monetary donation to LifeROOTS (it's safe & secure and 100% of your donation goes to support our services to the community)

Step 2: Let others know you are supporting LifeROOTS by posting an "un-selfie" photo on twitter, facebook, and instagram. Be sure to include the hashtags below (#) a.k.a. pound signs for the older generation.

#un.self.ie
noun
1. A show for giving support for Giving Tuesday.  Take a picture, tag it #unselfie and #givingtuesdaynm and #LifeROOTS and upload to your instagram, Facebook, or Twitter.

Click here to download and print YOUR #unselfie for LifeROOTS sign today and show your support.

Step 3: Share LifeROOTS social media pics that we post.  Tweet them, facebook or instagram and link to our website! Encourage your friends and family to make an on-line donation on November 29th – Every donation helps us empower the lives of our clients!