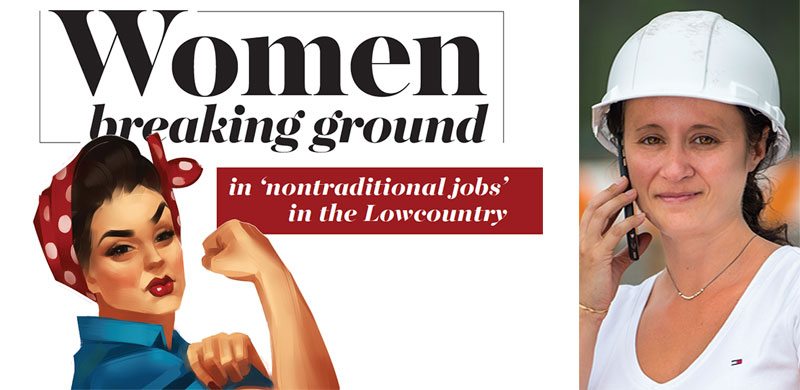 05 May

Women breaking ground in 'nontraditional jobs' in the Lowcountry
Ten years ago, you could have counted on one hand the number of women in construction or "nontraditional" jobs — occupations in which women make up 25 percent or less of the total workforce, according to the U.S. Department of Labor. Today, however, that's changing — which is not only great for women, but great for businesses throughout the Lowcountry and beyond.
According to U.S. Department of Labor statistics from 2008 show that, nationwide, only 5.8 percent of all working women were employed in nontraditional jobs. Today, women hold just 4 percent of trade jobs in the U.S. — an industry that includes laborers, electricians, plumbers and carpenters. Though the number of women working in these types of nontraditional jobs is still low, it's still four times higher than the number of women who worked in these types of trade jobs 40 years ago, and the numbers continue to rise.
So why are more women seeking to work in nontraditional jobs?  To start with, many of these jobs pay more — often 20 percent to 30 percent more than women typically make in traditionally women-held jobs. In fact, nontraditional occupations offer a woman higher entry-level wages and higher pay as she advances in her career. In addition, jobs in technical and trade fields generally have better benefits including health care coverage, sick leave and vacation pay. Nontraditional jobs also seem to offer greater autonomy, with less direct supervision — and often give women a clear way to work their way up to better pay and benefits. And, of course, here in the Lowcountry there is even more incentive for women to consider a nontraditional job: many of these jobs provide the opportunity to work outdoors, to be physically active and to work with your hands. The flipside? Some women today point to the unsupportive attitudes of friends and family as a big deterrent, as well as the fact that, many times, society still socializes women into valuing traditional roles. Not to mention the lack of equity in education that still exists, with young girls often not directed into the math and science worlds — resulting in a gender gap when it comes to career paths. Workplace discrimination and sexual harassment are also issues, especially for women entering fields dominated by men.
But here's the good news: There are women breaking ground in nontraditional work roles here, and they are thriving.