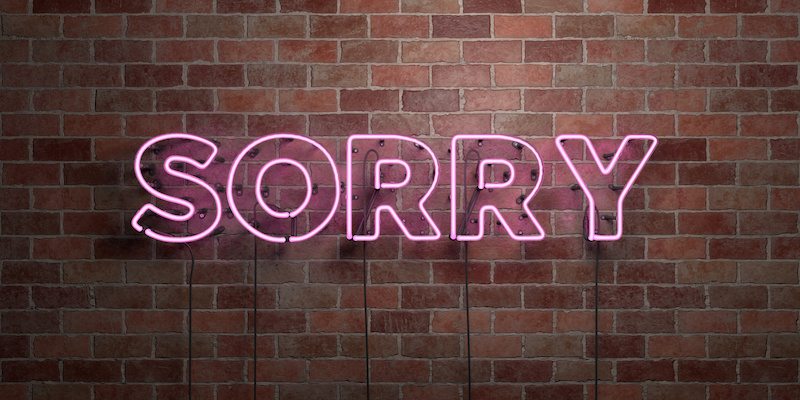 14 Apr

The Art of "I'm Sorry"

We live in the digital age, where information travels so fast it can make your head spin. A video or photo can simply be turned into headline news just by clicking one button; share. News, both negative and positive, can reach the world before a company is even aware there is a story out there about them.

We have seen a trove of examples of this in the past two weeks alone. Let's talk about these PR blunders, shall we?

First, there was Pepsi. Oh, Pepsi… a brand is known for their celebrity endorsements like Ray Charles, Michael Jackson, Britney Spears and even Queen "B" herself, Beyonce. Their past commercials, upbeat and sometimes controversial had not received as much backlash as 2017 commercial featuring Model and Television personality Kendall Jenner. Have you seen it? If by chance you have been living under a rock or have just come out of a coma, watch the ad here:

In the ad, Kendall "tosses" the pressures of modeling by removing her wig and joining a protest. After waving and winking at some protesters, Jenner hands a cop a can of Pepsi – basically saying… "Here, have a Pepsi and of our problems will go away and finally, we can be united as one!"  But the real issue was using protest imagery in order to sell soda. Between all of the Women's Marches, Black Lives Matters protests– how could they not think this would cause a major blunder to their campaign?

Pepsi's Kendall Jenner Ad was so awful it did the Impossible: It United the Internet – WIRED

In the end, Pepsi pulled the ad and apologized for the "poor taste" of the spot saying they were "trying to protect a global message of unity, peace, and understanding, clearly we missed the mark, and we apologize."

The controversial Pepsi ad was created by PepsiCo's in-house content creation partner, League Studio.  In a recent AdAge article, it is noted that Pepsi could have benefited from an external perspective that could have potentially saved them from releasing the spot. "I think it's always better to have diversified thinking in any context, and specifically when you're looking at a strategic-type campaign that really focuses potentially globally," – says Chris Loretto, Executive VP at Denver-based Digital First Media. It is safe to say we completely agree with these two statements.

We are living in a society where there are grassroots efforts popping up all over the place on some very serious and pressing issues. If they were dealing with an agency, that ad would have never made it to production; it would have died at the concept meeting. Most internal teams function as the "yes man," but sometimes you need an outside point of view to help provide you with crucial checks and balances. A new perspective can make all the difference and very well may have saved this disaster from the beginning.  On the other hand, Jenner and PepsiCo got more press than their total ad costs. It may have been an epic failure, but the exposure – as always for the Kardashian's, was fabulous – actually, for PepsiCo too! We look forward to seeing how Pepsi will recover from this – we are rooting for you!

United to Pepsi, "Hold my beer."

Pepsi received a gift on Sunday, April, 9th when a video was taken of a man being forced off a United Airlines flight from Chicago to Louisville. Airlines routinely sell tickets to more people than the plane can seat, counting on the fact that several people will not arrive for the flight. When the flight becomes overbooked, because every passenger shows up – the airline will first offer passengers some sort of reward for rebooking their flight and giving up their seat. In this case, no one on the plane volunteered and they randomly picked 4 people to give up their seats. One man, a doctor from Louisville, was inclined to stay put and refuse giving up his seat. Well, the airline took the matter into their own hands and asked security officers to come on board to remove the man. The man continued to refuse so the officers grabbed him and dragged him down the aisle of the plane. A later video surfaced showing the man's bloody face saying "just kill me" over and over again.

As you can imagine, this hit the internet almost immediately and the entire world was outraged. Twitter alone, exploded – with new United Airlines Mottos.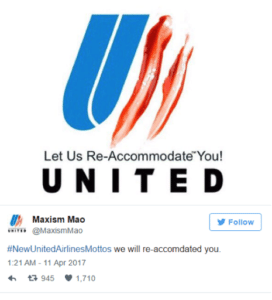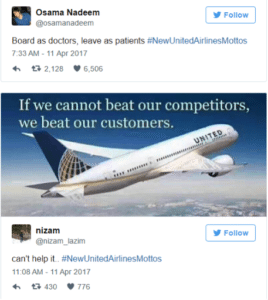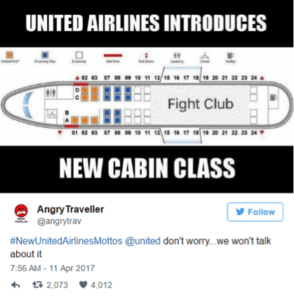 United was fairly quick to respond – their brand was under increasing fire from the world. People canceled already booked trips, others vowed to never fly with them again. United's CEO, Oscar Munoz apologized for having to "re-accommodate" the passenger. Did he realize the entire world JUST saw the video of the man being dragged out of his seat forcibly by the Chicago PD?
A day later, an email surfaced that was written to all United employees from the CEO himself defending the companies procedures and ensuring no one did anything wrong. Well, the internet exploded again and more and more people vowed to never fly again at the same time making fun of their customer service – poking fun at the email sent to employees. Well, the following day United's stock drops $1.4 Billion – this time; the CEO sends an official apology.
Now, what was the first mistake the company made? They knew the world was outraged but they continued to defend the actions of the staff and that of the Chicago PD. As a PR agency, we would have advised them to go a bit of a different route.
On April 13th, a press conference was held with the Doctor's Lawyer and Daughter. We now know the man suffered a concussion, a broken nose, and knocked out teeth. This is going to be a "doozy" for United to deal with.  We are looking forward to seeing if and how they recover from this.
Do you know the quote by Nikos Kazantzakis? "Since we cannot change reality, let us change the eyes which see reality," – in this case, our eyes saw the reality within seconds of the incident and United was unable to get in front of the story. They had a chance to handle this the right way –they failed miserably. We live in a world where information is at our fingertips, where a video can go viral in seconds – around the world. It is impossible to be a "spin doctor" these days, well unless you are Olivia Pope. Have you read our recent article about how Olivia Pope Agrees? If you have not had a chance to read it, let us sum it up for you.
Rather than trying to spin the truth, it is incredibly vital that you maintain honesty and be as sympathetic as possible to anyone affected by the crisis. In this case, it took United 3 attempts to get there. To us, THAT is a MAJOR PR disaster.
In the case of Pepsi, they handled their blunder with grace and sympathy towards those who felt their ad was offensive and immediately pulled the spot.
As we said back in the Olivia Pope article, TRUTH WILL ALWAYS WIN and sometimes you just need a team of professionals to help you get to that truth. Sometimes you need an outside perspective on how the world will react and how you can develop a REAL and JUST plan of action. The days of hiding behind your "spin doctor" are over…
Sean Spicer was then like… "Hold my Pepsi"